Dance
The Nutcracker (Royal Opera House)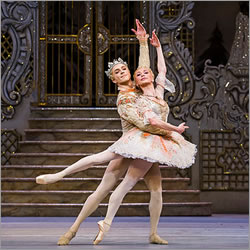 The young Clara creeps downstairs on Christmas Eve to play with her favourite present – a Nutcracker. But the mysterious magician Drosselmeyer is waiting to sweep her off on a magical adventure.
After defeating the Mouse King, the Nutcracker and Clara travel through the Land of Snow to the Kingdom of Sweets, where the Sugar Plum Fairy treats them to an amazing display of dances. Back home, Clara thinks she must have been dreaming – but doesn't she recognize Drosselmeyer's nephew?
Peter Wright's interpretation of The Nutcracker has been enchanting children and adults alike since its first performance by The Royal Ballet in 1984. Lev Ivanov's 1892 ballet combined with Tchaikovsky's sumptuous, iconic score are presented in a festive period setting with vivid designs to make this a charming and magical production.

Venue Details
Royal Opera House
Covent Garden
London WC2E 9DD
Box Office
020 7304 4000
Nearest tube
Covent Garden
Directions
Map
More info
Website
Dates
3, 7, 12, 15, 21-22, 24, 28, 31 December 2018, 1, 5, 7-9, 11, 15 January 2019
Times
12.00, 12.30, 14.00, 14.30, 19.00, 19.30
Prices
Sold Out
Other notes
2 hours 20 minutes, including one interval.
Includes a gunshot and cannonshot approximately 30 minutes into Act I.
Suitable for children 5+