Festive Wreath Making
Adorning your front door with a cheerful wreath welcomes your guests with seasons greetings. At our immersive masterclass you will learn the art of wreath making, and how to celebrate an abundance of woodland materials and decorations that you can forage yourself or gather from your garden.
The floristry style at Petersham Nurseries is renowned for its dramatic, wild and impressive arrangements; we carry this through into our Christmas floristry and create festive wreaths that represent the season using winter foliage adorned with festive berries and seed heads.
Ticket price includes light refreshments and all that is needed to make your own wreath to take home. Please bring a mask.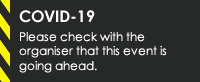 Venue Details
Petersham Nurseries
Floral Court
London WC2E 8JD

Church Lane
Richmond
Surrey TW10 7AB
Box Office
Covent Garden
020 7305 7676
Richmond
020 8940 5230
Nearest tube
Covent Garden
Richmond. This is followed by a brisk 30 minute walk along the river or short hop by bus - the no. 65 bus frequently departs from the bus stop outside Richmond Station.
Directions
Covent Garden
Richmond
More info
Website
Dates
7-8, 14-15 December 2020
Times
Covent Garden 17.30-20.30
Richmond 10.00-13.30, 15.00-18.00
Prices
£150.00
Other notes
None