Christmas-themed books and classical Christmas stories are a true way of immersing yourself in a Christmas wonderland, out of daily challenges and into a world of hope and peace. Here are some suggestions on books and stories that will capture Christmas for you. The section has been broken down into: London-themed, Traditional, Modern, and Other books.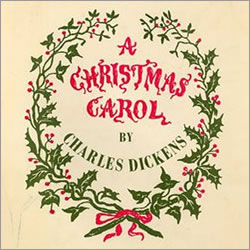 A Christmas Carol
Charles Dickens
The classic tale by Charles Dickens of tight-fisted, cold-hearted Scrooge who undergoes a transformation at Christmas. The ghosts of Christmas Past, Christmas Present and Christmas Future guide Scrooge to a better knowledge of what Christmas truly means. 
A Christmas Day at the Office
Matt Dunn
One Christmas party. Two merging companies. Free-flowing champagne. What could possibly go wrong? With her new billionaire boss in town, Sophie's determined to swap the No-Jobs she meets on Tinder for her very own Steve Jobs. But will looking like a million dollars be enough to kick-start a Fifty Shades adventure?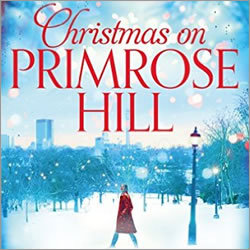 Christmas on Primrose Hill
Karen Swan
Twinkling lights brighten London's Primrose Hill as Christmas nears - but for Nettie Watson, it's not parties and presents that she wants. Christmas only serves as a stark reminder of the life she used to have ... One day she made a promise to never leave home, and so far she's stayed true to her word.
Christmas Shopaholic
Sophie Kinsella
With sister Jess demanding a vegan turkey, husband Luke determined that he just wants aftershave again, and little Minnie insisting on a very specific picnic hamper, as well as the surprise appearance of an old boyfriend and his pushy girlfriend. Will chaos ensue, or will Becky manage to bring comfort and joy to Christmas?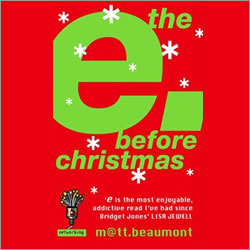 The e Before Christmas
Matt Beaumont
The further adventures of the characters from "e" takes them into the run-up to Christmas - once again told entirely in a series of e-mails. Harriet's determined to make her first party as MD mega-memorable, but even her much-tested imagination can't predict what actually happens.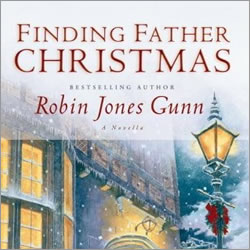 Finding Father Christmas
Robin Jones Gunn
In Finding Father Christmas, Miranda Carson's search for her father takes a turn she never expected when she finds herself in London with only a few feeble clues to who he might be. Unexpectedly welcomed into a family that doesn't recognize her, and whom she's quickly coming to love, she faces a terrible decision.
A Midnight Carol
Patricia K. Davis
It was the bleakest winter of Charles Dickens's life. In 1843, with his most recent books bringing in almost no income and his wife pregnant with their fifth child, Dickens had to face facts. Only an innate sense of courage could make him risk losing everything and result in one of the greatest literary gifts ever given to the world.
A Miracle on Regent's Street 
Ali Harris
Evie Taylor, a girl with a big heart, gets lost in the big city. For the past two years, Evie has lived an invisible life in London. Her neighbours think she's just moved in, her sister mistakes her for a live-in nanny, and even Evie's manager at work can't remember her name. But all that is about to change ...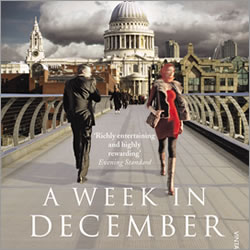 A Week in December 
Sebastian Faulks
Seven wintry days to track the lives of seven characters: a hedge fund manager hunting his biggest trade, a professional footballer recently arrived from Poland; a young lawyer; a student who has been led astray by Islamist theory; a hack book-reviewer; a schoolboy; and a Tube driver whose Circle Line train joins these lives together.
A Child Was Born: A First Nativity Book 
Grace MacCarone
Maccarone retells the story of Jesus' birth in very short, rhyming sentences: "A Newborn cried, His mother sighed. Shepherds feared as angels appeared." However, the watercolors, outlined in soft, black pencil, are tenderly expressive, and the details of the setting are caught with accuracy and pleasing simplicity.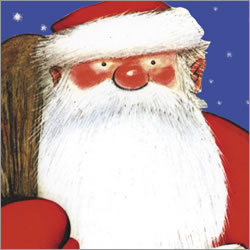 Father Christmas
Raymond Briggs
In this hilariously irreverent Christmas book, Father Christmas has awoken from a dream of summer sun to discover it is December 24th, Christmas Eve - the start of his longest night's work of the year! Much merriment ensues as Father Christmas travels the world to bring joy to children everywhere.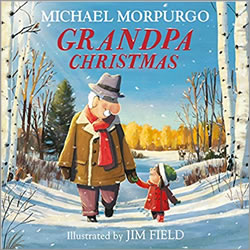 Grandpa Christmas
Michael Morpurgo
Every Christmas Mia and her family read a letter which her Grandpa wrote to her. His letter is a warm, impassioned and heartfelt wish for a better world for Mia to live in. He remembers fondly the times they spent together but worries that all the things they love so much are in danger ...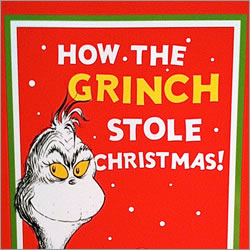 How the Grinch Stole Christmas
Dr Seuss
For many years, the Grinch has lived in a cave on the side of a mountain, looming above the Whos in Whoville. The noisy holiday preparations and infernal singing of the happy little citizens below annoy him to no end. The Grinch decides this frivolous merriment must stop.
The Legend of the Christmas Stocking
Rick Osborne
This wonderful Christmas tale, set in the late 1800s, shares the touching story of a young boy named Peter. He sells newspapers to help his family while his father is away at sea, and he's been saving a bit of his earnings to buy a model schooner in the woodworker's shop.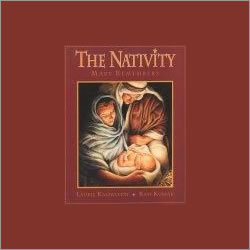 The Nativity: Mary Remembers
Laurie Knowlton
Laurie Knowlton's lovely and sensitive retelling views the first Christmas through the eyes of the mother of Jesus as she undertakes the long journey to Bethlehem where, in a crude stable, Jesus Christ is born. "The Story of Christ's Birth" is the essence of the worldwide celebration known as Christmas.
The Night Before Christmas
Clement C. Moore
Another true classic. Santa's on his way, the kid's are in bed, and it's Christmas Eve. Clement Moore's festive description of the night's events leading to a glorious Christmas morning will surely get you in the Christmas spirit, and even take you back to your childhood, when you, like the children couldn't wait for Santa to arrive.
The Polar Express
Chris Van Allsburg (Illustrator)
On Christmas Eve a boy boards the mysterious train that waits for him: the Polar Express bound for the North Pole. When he arrives, Santa offers the boy any gift he wants. The boy asks for one bell from the reindeer's harness. It turns out to be a special gift.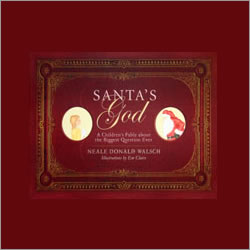 Santa's God: A Children's Fable About the Biggest Question Ever
Neale Donald Walsch and Em Claire
Eight-year-old Melinda Carson hopes to keep herself awake until the wee hours of the morning on December 25th to make sure that she sees Santa. She's waited every year, but this year she makes it! Santa's arrival is witnessed. And, furthermore, she gets to talk to Santa himself! And this is where it gets interesting.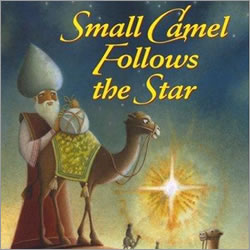 Small Camel Follows the Star
Rachel W. N. Brown
Wise Balthazar is going on an important journey; he is following a brilliant star and looking for a baby king! Small Camel and his mother are going, too, and Small Camel is carrying a special bundle tied to his hump. What is in the bundle?
The Snowman
Raymond Briggs
A little boy makes a snowman. When he looks through the window at night, the snowman has come to life. The little boy shows the snowman around the house and later they go and visit Father Christmas. When the boy wakes up in the morning, the snowman has melted.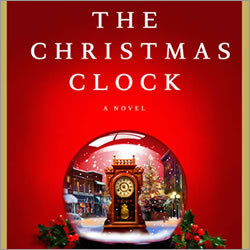 The Christmas Clock
John T. Cullen
Arthur Latchloose is a grumpy old banker who feels left behind by the world, though perhaps he unknowingly helped cause his estrangement from his late wife and their children. He hasn't a friend in the world, not even a pet, and has not celebrated a Christmas in years. He does have an unusual hobby to go along with his considerable wealth.
The Christmas Mystery
Jostein Gaarder
Fifty years ago a girl called Elisabet Hansen disappeared from her home in Norway. She ran after a lamb - and found herself travelling right across Europe to Palestine, and back 2000 years to meet the Holy Family in Bethlehem. As she ran she met angels, shepherds, wise men and other biblical characters who joined her on her pilgrimage.
The Christmas Pig
J.K.Rowling
It's Christmas Eve and Jack's favourite toy Dur Pig (DP for short!) is missing! Jack is devastated and annoyed by his replacement; The Christmas Pig. But on one of the most magical nights of the year - Christmas Eve - Jack's toys come to life, and they're about to embark on a daring plan to rescue DP in time for Christmas.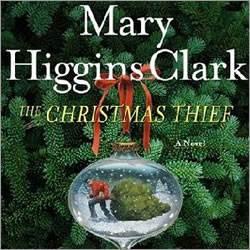 The Christmas Thief
Mary Higgins Clark, Carol Higgins Clark
Alvirah Meehan, the lottery winner turned amateur sleuth, joins forces once again with private detective Regan Reilly to solve a Christmas mystery. This time they must track down the beautiful ninety-foot tree that is hijacked on its way to Rockefeller Center for the Christmas season.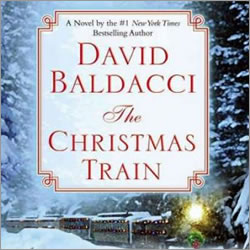 The Christmas Train
David Baldacci
Tom Langdon, a weary and cash-strapped journalist, was banned from flying in the U.S. when an overly probing search caused him to blow his top at LaGuardia Airport. Now, the train is his only option to get to Los Angeles for Christmas to be with his girlfriend. To finance the trip, he pitches a story about a train ride taken during Christmas.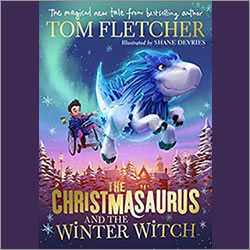 The Christmasaurus and the Winter Witch
Tom Fletcher
'She is the best-kept Christmas secret of all,' whispered Santa Claus. 'Which is surprising, because Christmas itself would not exist without her. She is older than time itself, yet still as young as tomorrow. She is known only as the Winter Witch.'
8-Bit Christmas
Kevin Jakubowski
It's 1980-something and all nine-year-old Jake Doyle wants for Christmas is a Nintendo Entertainment System. But when a hyperactive Shih Tzu is accidentally crushed to death by a forty-two- inch television set and every parent in town blames Nintendo, it's up to Jake to take matters into his own hands.
Finding Noel
Richard Paul Evans
The Christmas season is supposed to be full of joy, but not for Mark Smart. Life had dealt him one body blow after another: he lost his scholarship and had to drop out of school; his beloved mother had died in a car crash; his girlfriend dumped him, and now, late on a snowy night in November, his car had broken down.
The Gift
Cecelia Ahern
This is a story about people who not unlike parcels, hide secrets. They cover themselves in layers until the right person unwraps them and discovers what's inside.Sometimes you have to be unravelled in order to find out who you really are. For Lou Suffern, that took time.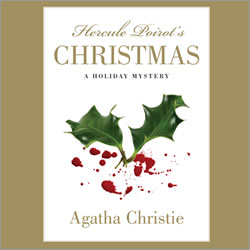 Hercule Poirot's Christmas
Agatha Christie
It is Christmas Eve. The Lee family reunion is shattered by a deafening crash of furniture, followed by a high-pitched wailing scream. Upstairs, the tyrannical Simeon Lee lies dead in a pool of blood, his throat slashed.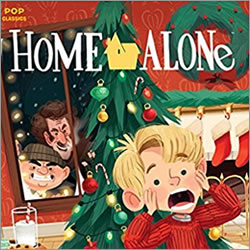 Home Alone: The Classic Illustrated Storybook
Kim Smith
Illustrator Kim Smith has reimagined the story as a classic Christmas fable-complete with bumbling burglars, brilliant booby-traps, and a little boy named Kevin who's forced to fend for himself. Through a series of comic adventures, Kevin learns lessons about responsibility and the importance of family.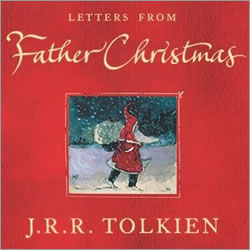 Letters from Father Christmas
J.R.R. Tolkien
Every December an envelope bearing a stamp from the North Pole would arrive for J.R.R.Tolkien's children. Inside would be a letter in strange spidery handwriting and a beautiful coloured drawing or some sketches. The letters were from Father Christmas. They told wonderful tales of life at the North Pole.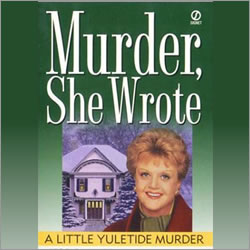 Murder She Wrote: A Little Yuletide Murder
Janet Laurence
Jessica Fletcher hopes to spend a quiet Christmas in her hometown of Cabot Cove, Maine, but her work catches up with her when the neighbour who played Santa Claus at the annual celebration is murdered.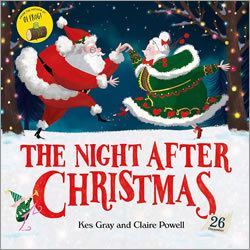 The Night After Christmas
Kes Gray
Phew! Now that the presents are all delivered, Santa and his elves can enjoy their own festive fun! With crackers and presents, dance-offs and light shows, Santa's Boxing-night party is the North Pole's biggest event of the year!
A Proper Family Christmas
Jane Gordon-Cumming
William Shirburn really isn 't into Christmas – all that jingly tinsly presenty stuff makes him feel queasy. He'd prefer to spend it alone watching trash with his cat. But there's an unwritten law that elderly people are not allowed to be left alone at Christmas, especially if they live in a vast old mansion that could be a gold-mine in the right hands.
Sherlock Holmes and the Christmas Demon
James Lovegrove
It is 1890, and in the days before Christmas Sherlock Holmes and Dr John Watson are visited at Baker Street by a new client. Eve Allerthorpe - eldest daughter of a grand but somewhat eccentric Yorkshire-based dynasty - is greatly distressed, as she believes she is being haunted by a demonic Christmas spirit.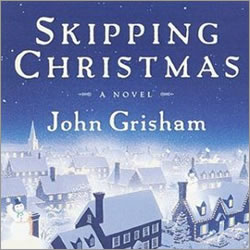 Skipping Christmas
John Grisham
Grisham's story revolves around a typical middle-aged American couple, Luther and Nora Krank. On the first Sunday after Thanksgiving they wave their daughter Blair off to Peru to work for the Peace Corps, and suddenly realise that "for the first time in her young and sheltered life Blair would spend Christmas away from home".
Ten Minutes to Bed: Little Unicorn's Christmas
Rhiannon Fielding
Fall asleep with Twinkle the unicorn after she goes on very festive night-time adventure. It's Christmas Eve and Twinkle is too excited to sleep! But someone very special is also awake, and is having a bit of trouble! Can Twinkle come to the rescue?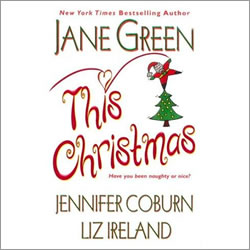 This Christmas
Jane Green, Jennifer Coburn & Liz Ireland
Three well written comedic family dramas that are fun frolics for sub-genre readers; however any vacation time could have been the setting as the Christmas holiday gala is not essential to these three fine novellas.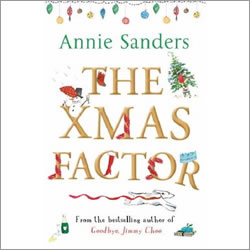 The Xmas Factor
Annie Sanders
Meet two women with two totally different approaches to the festive season. Beth: it's only September, and already she has performance anxiety. Carol: glamorous magazine editor, who put her Christmas issue to bed sometime in July and is so involved in finding a scoop to save her magazine that she fails to notice the impending festive rush.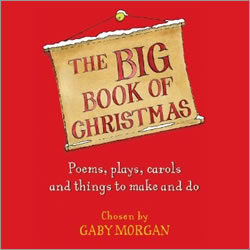 The Big Book of Christmas: Carols, Plays, Songs and Poems for Christmas
Gaby Morgan
Absolutely everything a school could need for Christmas. A winter wonderland of a book, The Big Book of Christmas is packed with Christmas songs, poems, bible readings for carol services, carols, three plays, including a fantastic song-filled nativity play, and tips, things to make and recipes for class Christmas parties.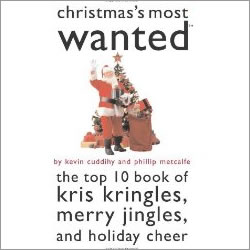 Christmas's Most Wanted: The Top Ten Book of Kris Kringles, Merry Jingles and Holiday Cheer
Kevin Cuddihy, Phillip Metcalfe
This anthology of humour and trivia is a celebration of the fun side of Christmas - the songs, the movies, the TV shows, the history, the people, the laughs, even the commercialism. Read about traditions and the traditions of gift giving around the world; discover how different song genres celebrate Christmas in music.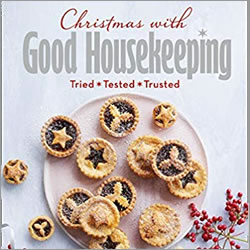 Christmas with Good Housekeeping
Good Housekeeping
Christmas with Good Housekeeping provides every recipe you need for the most delicious festive season with family and friends. Chapters offer mouth-watering ideas for canapes, starters, vegan & vegetarian options, baked goods, showstopper desserts, edible gifts, and not to forget Christmas lunch with all the trimmings!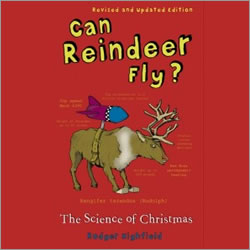 Can Reindeer Fly?
Roger Highfield
A lighted-hearted scientific look at the rituals and icons of Christmas. How does snow form? Why are we always depressed after Christmas? How does Santa manage to deliver all those presents in one night? (He has, in fact, little over two ten-thousandths of a second to get between each of the 842 million households he must visit.)
Fortnum & Mason: Christmas & Other Winter Feasts
Tom Parker Bowles
Capturing the magic and finest festive traditions of Fortnum & Mason, Christmas and Other Winter Feasts gathers together everything you need to enjoy a truly delicious winter. A joyous celebration of extraordinary seasonal food, filled with recipes for Christmas and New Year's Eve, as well as Guy Fawkes and Burns' Night.
Jamie Oliver's Christmas Cookbook
Jamie Oliver
Jamie's Christmas Cookbook is packed with all the classics you need for the big day and beyond, as well as loads of delicious recipes for edible gifts, party food and new ways to love those leftovers. It's everything you need for the best Christmas ever.
Nigella Christmas
Nigella Lawson 
Reliable, practical, easy-to-follow recipes and reassuring advice about planning and cooking ahead. Everything from scrumptious Christmas cakes and puddings, to quick and easy homemade presents and edible tree-decorations, recipes for feeding friends and family over the holiday season with minimum stress and maximum enjoyment.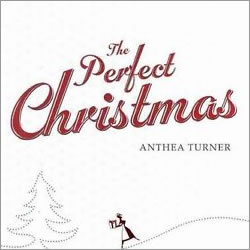 The Perfect Christmas
Anthea Turner
So you're organising Christmas this year. What are you going to give everyone? How can you make it that extra bit special? This guide helps you to prepare and execute a Yuletide to remember, with ideas to make your Christmas special - from handmade decorations to planning a festive party and the all important Christmas dinner.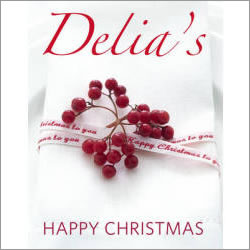 Delia's Happy Christmas
Delia Smith
This cookbook will help you to plan your Christmas festivities to the very last culinary detail, acting as an invaluable Christmas organiser from reminding you to make your Christmas pudding and chutneys in November to giving you a crucial countdown for the Last 36 Hours.
Delia Smith's Christmas
Delia Smith
This collection of Christmas recipes from Delia Smith includes five different Christmas cakes, a complete vegetarian menu, recipes for gifts such as chocolate truffles, and many traditional favourites. There are also ideas for festive occasions from drinks parties to dinner parties.
Mary Berry's Christmas Collection
Mary Berry
By taking the traditional Christmas fare and giving it a twist, Mary adds sparkle to every celebration. Simple yet reliable recipes and Mary's handy hints will take the pressure off entertaining, whether it's for the big day itself, a Boxing Day crowd or an intimate New Year family gathering.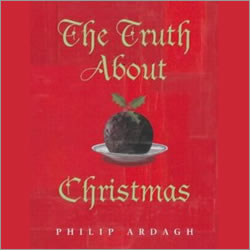 The Truth About Christmas: Its Traditions Unravelled
Philip Ardagh
Who decided to celebrate Jesus' birthday on 25th December... and why? Who exactly was Saint Nicholas (Santa Claus)? Why do we kiss under the mistletoe? When was the first Christmas card sent? What on earth has a Yule log to do with Christmas? What does "nativity" actually mean? Why are Christmas puddings Christmas-pudding shaped?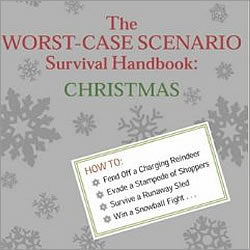 Worst Case Scenario Survival Handbook: Christmas
Joshua Piven, David Borgenicht
Turkey on fire? No plans for New Year's Eve? Obnoxious relatives headed your way? The authors of the best-selling The Worst-Case Scenario Survival Handbook are here to help you survive the dangers of the holiday season, from Thanksgiving to New Year's Day.